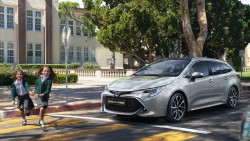 Brussels, January 13, 2020 - Toyota Motor Europe today reported its 2019 sales of 1,089,422 Toyota and Lexus vehicles, up 5.2% from the same period in 2018.
The group's overall market share increased by 5.3% on the back of a stable overall development trend with no growth in sales in the European automotive market last year. Toyota and Lexus have sold more than 550,000 hybrid electric vehicles, accounting for 52% of total sales, and the fully branded electric hybrid electric vehicle lineup includes a total of 20 models, which is the broadest of its kind in the industry.
A total of seven launches of new models from the two brands in 2019 also provide additional momentum for year-on-year growth. With sales of 1,002,216 units, Toyota sold over a million vehicles for the first time since 2008, up 4.5% from 2018. In the main C segment, Toyota is bringing to market all new versions of the Corolla and Touring Sports hatchback with hybrid drive (1.8-litre, 122 hp and 2.0-litre, 180 hp) and, for the first time, a hybrid with extended range in new Corolla sedan. The market premiere of the new RAV4 received a great response from buyers in the near future. is currently in demand that exceeds delivery capacity. Mediocre market premieres were the debut of the hybrid version of the Camry in Western European markets and the return of the GR Supra.
Overall Lexus sales in 2019 were up 14.5% to a record 87,206 vehicles, representing a six-year increase, with sales volume doubling from 2013. Steady growth in 2019 was spurred by the market premiere of a new premium compact crossover. Lexus UX, new LexusES sedan and updated version of Lexus RX. Lexus' sales structure in Western Europe is currently dominated almost exclusively by hybrid models with a share of 96%, while the average sales share in Europe is 67%.
"We are very pleased with another strong result in 2019, achieved in a rather uncertain market environment. The strong growth demonstrated by Toyota and Lexus during this period is a testament to the success of the company's strategy to focus on new products and expand its hybrid vehicle portfolio. electric vehicles. We thank our customers for their trust and loyalty. "We are confident that we can save energy in 2020 by introducing seven new models to the market, including the new Yaris, and by expanding our electrification strategy with the introduction of the new Toyota RAV4 PHEV and Lexus UX BEV," said e-Dr Johan van Zeal, President and CEO of Toyota Motor Europe.
TME highlights in January-December 2019: Total sales: 1,089,422 (+5.2% year on year), Market share: 5.3% (+0.3 percentage points year on year), Total sales of hybrid models : 562040 (+17% p.a.), Hybrid sales volume: Western Europe 63%, Eastern Europe 19%, total 52%
Toyota key figures for the period January-December 2019: Toyota total sales: 1,002,216 (+4.5% p.a.), Top-selling models: Yaris lineup (224,368); Toyota C-HR line (134,442); gamatana RAV4 (139,725), Top growth models: Mirai (+44%); Prius Plus (+41%); RAV4 (+29%), Camry range (+22%) Top-selling hybrid models: Toyota C-HR Hybrid (119,507); Corolla hatchback and Touring Sports (118,715); Yaris Hybrid (109,771); RAV4 (93792), Total hybrid sales: 503891 (+16% p.a.), Hybrid sales mix: Western Europe 61%, Eastern Europe 20%, total 50%
Lexus highlights in January-December 2019: Lexus total sales: 87,206 (+14.5% year on year), top-selling models: NX range (24,309); UX Range (20,943); RX line (18657), models with the highest sales growth: UX series (new model), ES series (new model in Western Europe), top-selling hybrid models: NX Hybrid (17391); UX Hybrid (19056); RX Hybrid (6948); Total hybrid sales: 58,149 (+27% year on year) - Hybrid sales mix: Western and Central Europe 96%, Eastern Europe 6%, total 67%.